Talbot Gardens Malahide
The Talbot gardens at Malahide are renowned the world over as a plant collectors and botanists paradise with some 5000 rare species still growing there today. They began in earnest with the arrival of Lady Isabel who arrived in 1902 with her seven children having recently been widowed and remarried to Richard, the 5th Baron of Malahide Castle. She began by noting every plant in minute detail in the Talbot Garden book. The garden was her constant joy and delight forever comparing it with that of Lady Ardilaun's in St. Anne's, Raheny. It has been said of Isabel that while she may spend ten minutes choosing a hat, she would spend four hours weeding a flowerbed....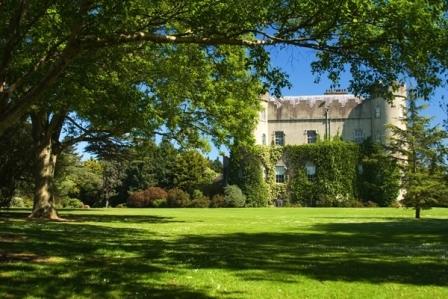 So the last male heir Milo didn't lick his talent and passion for horticulture off the leaves so to speak. Milo was an avid plant collector who travelled the world from Kashmir to Chile in search of rare species plants. He was obviously well connected with like minded individuals worldwide as the book records two plants having been raised from seed given to him by the King of Sweden from the Botanical Gardens in Gothenberg.
His sister Rose who sadly died on Feb 14th this year having retired to Milo's other Malahide estate in Tasmania, was also an acknowledged plantswoman much in demand for lectures and talks worldwide. The gardens are tangible evidence of the familys addiction to horticulture and a rare and valuable legacy for future generations.....
10 Other things to do and see in the area are...
1 Visit the Castle Garden a unique plant collectors paradise of over 5000 rare species.
2 Take a journey back in time at the Fry Model Railway which showcases well known Dublin landmarks.
3 Indulge your inner child at Taras Palace the largest Dolls House in Europe with a unique collection of miniature furniture.
4 Blow the cobwebs away with a bracing walk through the parklands which remain much the same as they always have for some 800 years.
5 Let the kids loose in the castle playground.
6 Take a stroll around the pretty village of Malahide with it nice new marina.
7 Have a 'grand' carvery lunch or afternoon tea in the Grand Hotel old fashioned luxury.
8 Drive the oastal route out around Portmarnock to Sutton Village.
9 Take a left on out to Howth Harbour, great seafood restaurants.
10 Or veer right back into Dublin via St Annes Park and Dollymount Strand.
For more information on Malahide Castle please click here

For more information on the Talbot Gardens please click here