Westclare Railway come aboard !
The Westclare Railway was immortalised in a song written by Percy French which went like this 'Are you right there Michael, are you right? Do you think that we'll be home before the night?' which may have seemed funny at the time that a train journey of 49 kms could actually take four and half hours. But it was true, the train was so slow that you could actually jump off, have a wee and hop on again! But at the time 1887-1952 there wasn't an alternative, in fact it was a vital commercial link for the region. It employed 300 people and transported 400,000 passengers, not to mention livestock and goods, which where then ferried by horse and cart from the various stations along the route to local shops and businesses by 'carters'.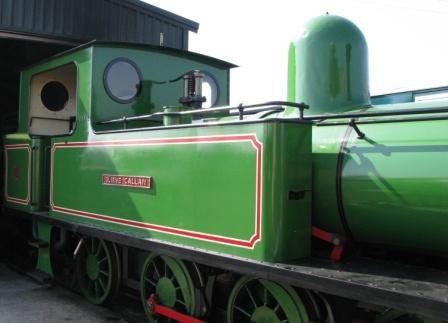 Having been abandoned in the 60's the Westclare Railway hit the headlines in 1996 when 'The Great Irish Train Robbery' took place. Jackie Whelan 'stole' the original, rusting steam engine the Sliabh Callan from Ennis Station, sadly most of the other wagons had been sold off for scrap at £100 each several years before. His dream, now a reality, was to restore it to its former glory at Moyasta junction between Kilrush and Kilkee and have it running again during the summer as a tourist attraction.
Jackie & his chief engineer Richard Gere (yea...)are not just passionate about their railway, they are mines of information about the whole West Clare region which has been largely forgotten about yet is stunningly beautiful with piles of other things to see and do, see below. Although you will have a job tearing yourself away from Moyasta as anything can happen there, in a day there. There are visitor attractions and theres the Westclare railway, where you won't find any computer generated simulations or neat little audio displays or stuff you cant touch....Jackie is a living museum, a great story teller and a walking embassador for Ireland who genuinely has an interest in all who visit, especially the children.
So definitely, put th Westclare Railway on your list of things to do this summer you wont be disappointed. And besides its not everyday you get to shake hands with Richard Gere, he even said if he'd known I was coming he would have has a shave and got rid of the greasy overalls. Julia Roberts eat your heart out.....
10 Other things to see and do near the Westclare Railway are....
1 The Lodge at Doonbeg stay or eat (clubhouse open to non-members) at this luxurious 5star hotel with traditional coastal links golf course designed by Greg Norman.
2 Dolphin Watch from either Kilrush or Carrigaholt, 95% guarantee that you will see the bottle nose dolphins that live in the Shannon Estuary.
3 Scattery Island once home to the Shannon Estuary pilots and their families, St Senans monastery and the round tower remain.
4 The Longdock Restaurant Carrigaholt, wonderful seafood restaurant, you can also buy chowder and brown bread (which is very good, laced with cumin) to take home. 5 Loop Head one of the most scenic drives in Ireland, rugged coastline, sea stacks, the church of the little Ark and where the storm scene in Ryans Daughter was filmed. The Lighthouse is open to the public now with guided tours daily during the summer.
6 Kilkee an old fashioned seaside resort, with a sheltered beach, promenade and band stand. Salt battered holiday homes with pretty gardens line the esplanade.
7 Rosarios Shop join the queue for a 99 (whipped icecream cone) they even sell coloured rock & candyfloss, happy days. And every kind of beach toy imaginable from balls to buckets and spades.
8 Naughtons Fish & Chip Shop good value, excellent food, fresh and tasty and the perfect easy option for feeding hungry little tykes after a day on the beach.
9 Clare Equestrian Centre go horseridig on the beach or through this lush countryside, registered, approved and fully insured.
10 Keanes Oyster Bar Lisheen, the owner has his own oyster beds out in Poulsherry Bay, so you just know they wont come any fresher or better then these.
For more information on the Westclare Railway please click here.