Europa Hotel Belfast
The Europa Hotel, has hit the headlines many times since its inception in the heart of Belfast City for many reasons including the all important Peace Talks and several presidential visits. Sporting and literary greats such as George Best and Seamus Heaney, our late great Poet Laureate have also stayed there. So, if you fancy a bit of celebrity spotting, it is definitely the place to stay in Belfast. The location is perfect with the Grand Opera House next door and the famous Crown Liquor Saloon Bar just opposite.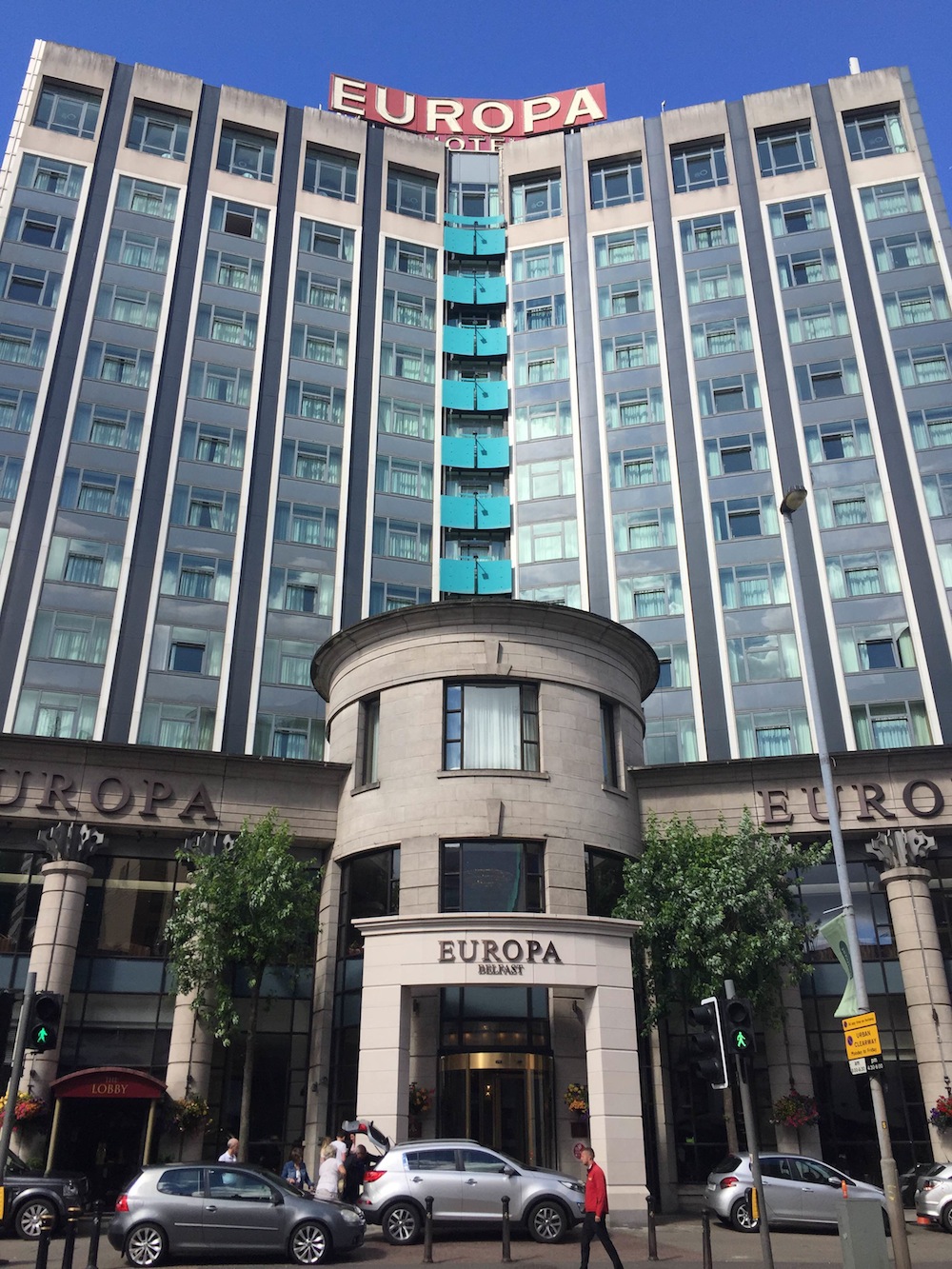 Europa Hotel, Victoria Street, Belfast, Northern Ireland
Owned by the National Trust this pub has the best Victorian interior anywhere in Ireland, complete with comfy snugs and casual dining upstairs. You are also in the heart of all the best restaurants, Belfast is really having a moment food and shopping wise with the new Victoria Shopping Complex with a glass dome for a birds eye views out over the city. Donegal Square is a two minute walk away with Belfast's iconic Town Hall and St Anne's Cathedral. While the Waterfront Complex (5 minutes walk) offers more great dining opportunities and a lovely riverside walk down to the Titanic Quarter which has been going from strength to since it opened on the 100th anniversary of that ill fated voyage in 2012, definitely not to be missed....

Crown Liquour Saloon, Belfast
The Titanic Museum is one of the premier sight seeing opportunities in Ireland (voted best Visitor Attraction in the world recently) as well as the Giant's Causeway on the beautiful Antrim Coastal Causeway route, cited regularly as one of the worlds most scenic road trips. In fact the Europa Hotel couldn't be better suited to a touring holiday of the North of Ireland. I particularly like the valet parking (at a very reasonable £16 per 24 hours stay) as it just makes life so much easier when you don't have to worry about or waste time finding a parking space in a strange city. And let's face it you just can't beat having the car pulled up outside the door for you, ready to hop into and go off touring for the day. Similarly when you roll up tired and hungry, dropping the keys with the concierge and heading upstairs for a welcome bath complete with complimentary yellow rubber duck, fluffy bath robe and a bed to end all beds.....
Very cosy bedrooms at Europa Hotel complete with cute yellow bath duck !
Apart from some noisy, squabbling seagulls, I woke up, fully refreshed and ready for the off once again. Breakfast is something else with a complimentary splash of Bushmill's Whiskey available to pour on your porridge if that takes your fancy? Many modern hotels pay lip service to the notion of supporting local suppliers but not so the Europa Hotel which supports a wide variety of growers and suppliers in Northern Ireland from Lady Duferrin of the Clandeboye Estate's yogurt to Jill Crawford's hand baked granola topped with fresh seasonal berries.... 
Lady Duferrin of the Clandeboye Estate, yoghurt producer and portrait painter of her beloved cows!
It was definitely the best hotel breakfast I have ever had in Ireland, and as we all know a good breakfast sets you up for the day! Just as well as there is plenty to do and see every day in Belfast !
With prices starting from £100 per room per night, I think it will be a viable alternative to Dublin pretty soon where prices have gone through the roof, especially for anyone wishing to visit the Giant's Causeway or the Titanic Quarter.
To make an enquiry or book a room online please click on the following link Europa Hotel Belfast. 
For more information on Belfast or touring Northern Ireland please click on the embedded links.