Bellinter House County Meath
Bellinter house is truly one of the most relaxing places I have ever visited. It's like the house has kicked off its shoes and invites you to do the same. From the moment you walk into the spacious grand old hall with a cheery log fire and friendly staff you just know 'hassle' is a word they have never heard of.... How do they do it? I have stayed all over the world and never quite come across the same sense of easy going calmness, that's totally uncontrived. Perhaps it's the fact that the house isnt too 'done' the original Georgian sash windows remain intact, the furniture is an odd collection of comfy retro chic. And you just know that if you tuck your legs up under you on a couch in front of the fire, no one is going to raise a manicured eyebrow at you....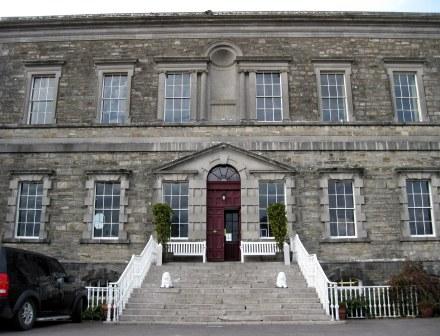 Very popular with Dubliners escaping the city on the weekends for a bit of tramping around Meath, complimentary wellies provided, there is a lot to see and do near Bellinter House including the infamous Hill of Tara ancient seat of the High Kings of Ireland just up the road, Newgrange older then the pyramids or Beaulieu House in Drogheda the first unfortified house to be built in Ireland and still in the same family 700 years later. But if you discover the spa.... delightfully packaged and presented as a Victorian Bath House you are not going to want to do any of that......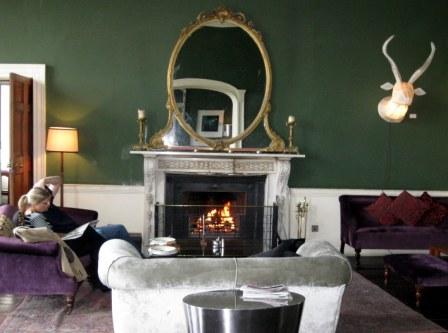 Oh no, who would swap sitting in a steaming hot tub or sauna with a clear view of the forests beyond for anything that even involved getting dressed.....guests have been known to stay in their bathrobes all weekend....If you are in need of some serious downtime look no further, they have great spa packages and deals midweek and at the weekends, so being treated like a high king wont cost you the equivalent ransom, now where did I leave my book?
For more information on Bellinter House please click here

10 Other things to do and see near Bellinter House are....
1 Tara ancient seat of the High Kings of Ireland similar to but reputedly bigger then Stonehenge?
2 Newgrange predating the pyramids this 5000 year old megalithic structure is precisely aligned to the winter soltice.
3 Battle of the Boyne interpretative centre at Oldbridge on the actual battlesite where 35,000 soldiers were killed in 1610.
4 Slane village check out the four large houses opposite each other at the crossroads, originally belonged to four sisters, or peep over the green gates at Slane Castle site of the legendry open air rock concerts run by Lord Henry Mountcharles.
5 Trim Castle huge Norman Castle you can scramble all over on seriously high ramparts, film set of the movie Braveheart.
6 Tullynally Castle fairytale castle with romantic gardens and a spitting llama!
7 Causey Farm Fordstown, Navan, fun model farm for the kids with loads of different events including giant bubble blowing and bog hopping?
8 Monasterboice see the 17ft tall high cross of Muirdeach with its intricate carvings.
9 Mellifont Abbey 12th century Cistercian abbey with octagonal lavabo, retrace the footsteps of 800 years as you cross the threshold.
10 Beaulieu House a very fine and unusual country house, stuffed with treasures and steeped in history, on the banks of the river Boyne.
For even more things to do and see in Ireland please click here