Country House Hotels
Country house hotels are my favourite for a short break and the perfect honeymoon destination, as they evoke a kind of Hollywood glamour and elegance that's difficult to find these days (not to mention the lover or husband?)But not so in Ireland, thankfully with the splendid selection of country house hotels we have here. Its easy to re-create that truly romantic experience of a vintage style touring holiday, perhaps even in a classic car, with a wicker hamper and tartan blanket packed for a champagne picnic 'en routier...'
In Ireland, we are talking seriously romantic hideaways, nestling in fabulous heathery Heathcliff, type, wild and remote (but not to remote) locations. Dreamy old manor houses with tumbling rose gardens or converted hunting lodges with leafy walks, beside misty lakes, rugged seascapes or tucked in under great towering mountains.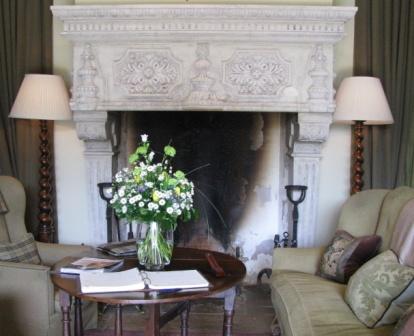 A discreet, quiet ambiance is always assured, it's not a kids thing? (leave them at home, please) House dogs? yes, no problem, stretched at your feet, in front of a roaring log fire, while you snuggle up with a nice hot whiskey or an Irish coffee. Deep four poster beds, you wont want to leave, crisp white linen, down comforters, pristine bathrooms & scented candles. It's not a telly thing either, so forget it guys! You just might surface for a scrumptious dinner in a classic diningroom or show up sheepish but ravenous the following morning for the home cooked scones at breakfast ....
The 10 Best Country House Hotels in Ireland are.......
1 Lough Inagh Lodge County Mayo, magnificent setting that ticks all of the boxes above.
2 Bellinter House County Meath, the most relaxing place to stay in Ireland, if not the world.
3 Gregans Castle County Clare, old world charm in the heart of the Burren, with new world cuisine.
4 Lisloughrey Lodge Cong, County Mayo beautiful location on the shores of Lough Corrib, smart and chic with a classic twist.
5 Delphi Lodge County Mayo, the very essence of a hunting, fishing, shooting country house hotel.
6 Cashel House County Galway, a perennial favourite with award winning gardens and old fashioned charm.
7 Moy House County Clare, an intimate 18th century hideaway overlooking the Atlantic oceans at Lahinch.
8 Rathmullen House County Donegal, traditional touring hotel on the route to the wilds of Donegal.
9 Ballinalacken Castle Hotel Doolin, has been welcoming guests for 3 generations now, fresh local produce served daily with amazing views.
10 Brooklodge Hotel Kilmacreddan, County Wicklow, known as the 'garden' of Ireland, lush and lovely countryside with plenty of actual gardens to visit.
To find other excellent country house hotels please click here Or download IrelandsTop 50 Hotels iPhone app free here.