Ready Made Trip to Ireland 
REady Made Trip
Planning a Trip to Ireland this year, are you feeling a little overwhelmed with all of the options or stressing out about accommodation choices? Have you a Bucket List of things you would like to see and do in Ireland but can't quite figure out how to fit it all into your time frame? Would you like a fool proof guide to booking flights, hiring and driving a rental car in Ireland, plus a carefully curated selection of the very best bed and breakfasts, small hotels, country manors and castles in superb locations that offer genuine Irish hospitality at reasonable prices, I thought so! What about a hand picked list of restaurant recommendations and / or information on where to find the best pubs with firesides, free traditional music and scenic photo opportunities? Well, I am glad you asked, as I might just have the answer to all of those questions for you....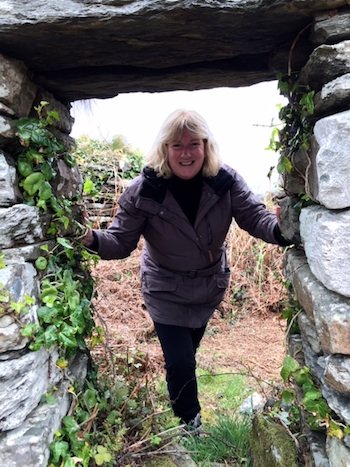 Susan Byron, Irish Travel Writer, Photographer & Tour Guide
Background
Apart from having been born and reared here, I have spent the last 10 years travelling around Ireland, revisiting places and getting to know my own country really, really well. During that time, I have had the most fantastic adventures, seen scenery that would make you cry, met the nicest people, eaten wonderful Irish food and stayed in some truly amazing places, that I am more than happy to share with you. The packages that I have created below are exactly the kind of vacation that I would go on myself and Lord knows I am fussy! I don't do crowds, tourist traps, basic accommodation (but it's not all expensive or high end either) or mediocre food, which is totally unnecessary in Ireland, trust me!  But, unless you know where to go and I have made my fair share of mistakes, believe me, there is every likelihood you will get ripped off or worse still, have a disappointing experience of Ireland.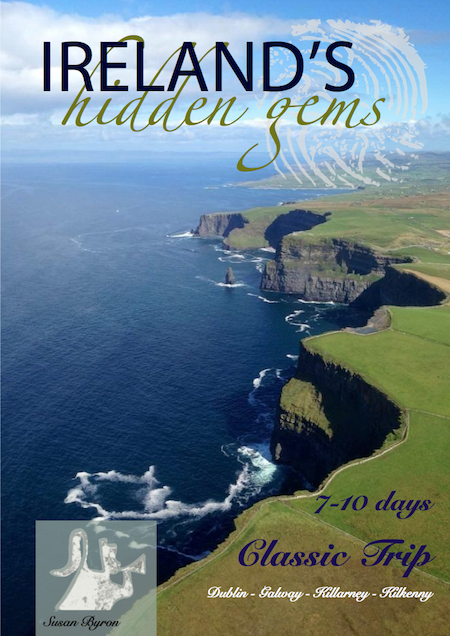 Package Details
To avoid that happening to you, I have put together a couple of Ready Made Itineraries for those of you who would rather have the flexibility of planning your own Trip to Ireland. Or you could join me on one of my special Guided Tours of Ireland which might be another option for you, if you don't fancy going it alone? These packages are broadly based on my own personal experience and many of the Tailor Made Itineraries that I have created for private clients over the years. The 7-10 day packages cover all the basics, touring routes, accommodation recommendations, and sightseeing suggestions in Dublin, Galway (including Connemara & Clare) Killarney, Waterford and / or Kilkenny. It also includes 2 different options for extending your vacation in either Sligo/Mayo or West Cork/Kinsale if you wish and are lucky enough to have the time to spare! And the best part is that it is all laid out in a logical sequence which keeps travelling time to a minimum and enjoyment of the scenery, culture, tradition and craic to a maximum!
Bed & Breakfast Guide
The Bed & Breakfast Guide includes my recommendations for touring Ireland while staying in bed and breakfast accommodation. This is a great way to experience Ireland and integrate with Irish families and our culture, not only will you get a cosy bed for the night (with your own private bathroom) and a generous breakfast, you will also be pointed in the right direction as regards the best walks, pubs, scenic drives, special things to do and see etc at each location. All of the bed and breakfasts recommended have been carefully chosen by me for their genuine Irish hospitality, unique character, friendliness and value for money, not to mention their superb locations.... 
What's included?
So what's included ?
A day by day itinerary for the first 7 days in Ireland which includes all the best things to do and see in Dublin, Galway, Connemara (Kylemore Abbey), Clare (Cliffs of Moher), Killarney (the Ring of Kerry) with an option on Dingle, Waterford or Kilkenny City. 
A day by day itinerary for 10 days which includes an extra 2 days in either Sligo (Yeat's Country) and Mayo (Achill Island) and (Westport) or West Cork (Beara Peninsula, Bantry House, Mizen Head) and (Kinsale) with a night each in Waterford and Kilkenny. 
A personal selection of the best quality accommodation at each location for you to choose from at your leisure which includes pricing and special offers.
A flexible daily itinerary to include the most scenic routes, historical cultural / traditional visitor attractions in each area including castles, stately homes, gardens, sacred places, museums, galleries as well as some extra special Hidden Gems such as holy wells, fairy forts, dolmens, secret beaches and woodland walks.
Daily recommendations on the best places to have for lunch, pints of Guinness, bowls of chowder, tea and scones or coffee and cake stops.
Evening restaurants and traditional music pubs and nightly entertainment.
Also included is a free information pack which includes all you need to know before you go re booking flights, car rental, driving in Ireland, the weather (what to pack) currency (atms and credit cards) advice on tipping, voltage, mobile phone usage / wifi coverage/  (chargers) as well as all the latest tips, tricks and shortcuts that you might find useful while travelling in Ireland.
And the price, just €149 which is a fraction of the cost of having a tailor made itinerary created especially for you. You can pay via the Paypal at the links below and once payment is completed you will then be redirected back to Ireland's Hidden Gems, where a pdf file will automatically be made available for you to download. It's a fairly hefty file so please be patient, it will be worth the short wait, I assure you! 
Classic Package
The Classic Package is similar to the Bed & Breakfast package as regards the touring itineraries, places to see things to do etc but contains a more varied selection of accommodation to choose from at each location. Again these have been hand picked from personal experience and include the more up market bed and breakfasts, small country inns / manor house, a couple of really great castles that are reasonably priced as well as the best city hotels that are well located and safe and not your usual tourist or business type accommodation. Staying in a broad range of accommodation really makes for a very different kind of vacation and a much more interesting experience of Ireland, all the best Susan 
To purchase the Classic Package, please click on the button below
Or if you would like to purchase the Bed & Breakfast Guide instead please click on the next button.
Also as part of the package, I am happy to provide you with any extra help you may require re planning your own Trip to Ireland. You can email me here anytime, if you have any further questions in the meantime here is some feedback from customers around the world who have purchased the above packages....
Testimonials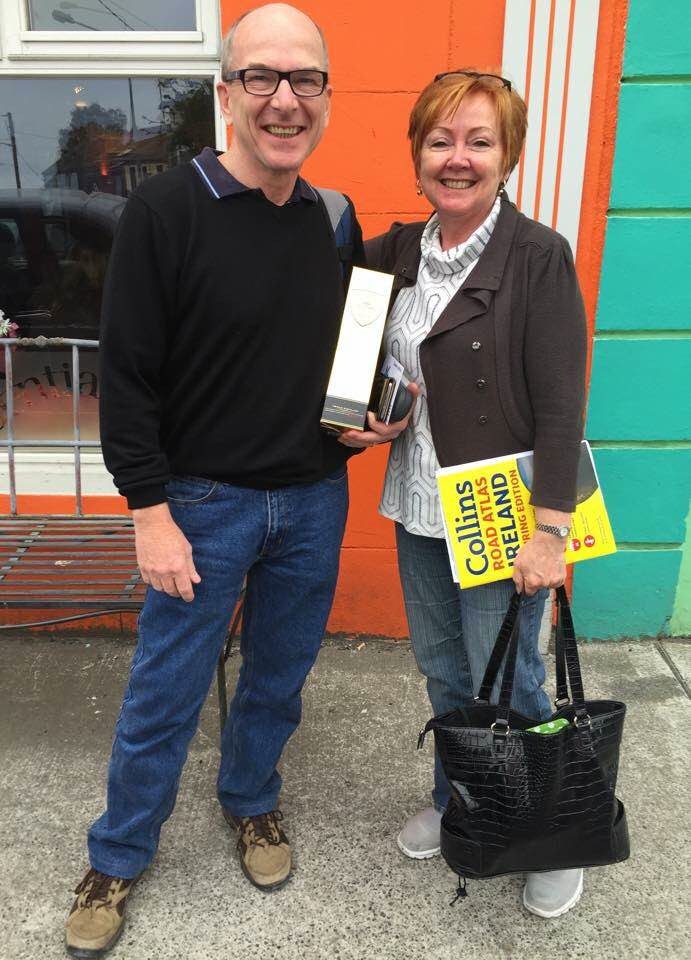 Good Day from Australia folks, we spent a month touring Ireland last summer staying at many of the wonderful bed and breakfasts that Susan recommended in her brochure and had a fabulous time celebrating my husband's 60th birthday. He's Swedish and I was born in Lisburn, so truly a combination of Viking Irish! A definite highlight was meeting Susan herself in Kinvara, in fact we are hoping to get her over here for a visit, if she can tear herself away from beautiful Ireland!
Lynn & Roger, Sydney, Australia.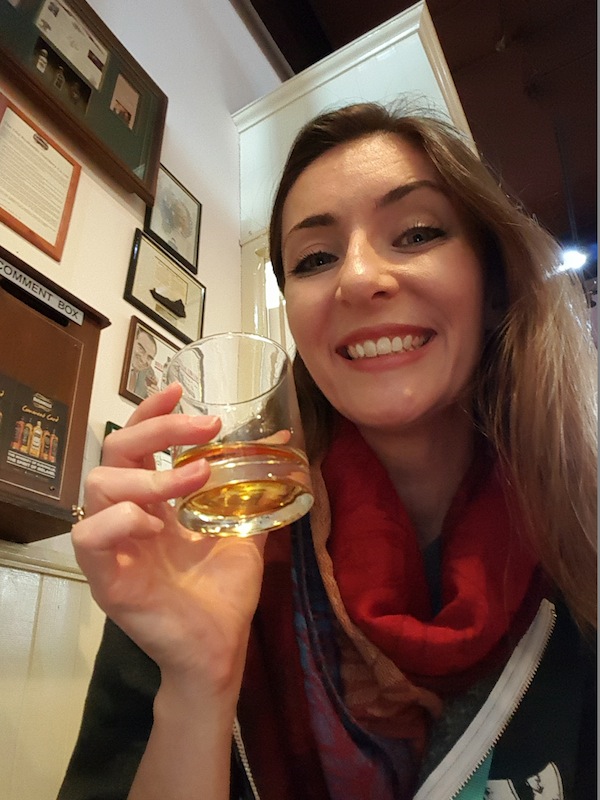 Hello Susan,
Thank you for this wonderful itinerary!  I've just had a chance to read through it once and my cheeks are already aglow with excitement!  As I dig into it deeper I'm sure I'll have questions but at the moment it looks like you've given me MORE than my money's worth--thank you so much!  I'm so delighted that I found you!
Michelle Jackson, Burbank, California, USA
Hi Susan, after our fabulous trip to Ireland, I'm now settled back in at home and want to thank you for a trip that has been our best trip ever. Your suggestions for the grands kids were spot on: they thoroughly enjoyed Powerscourt and Glendalough. My daughter fell in love with Ireland and she too is going to make it back. We are so grateful for your expertise and thank you for the coffee & cake and for taking the time to stop and chat...
Marsha & Ken McKinney Day, Seattle, Washington, USA
Hi Susan, thank you hardly seems appropriate for what you've done for me.  I found myself woefully unprepared and floundering, to the point of panic. Your understanding and kindness (and obvious expertise) has focused me, and really pulled everything together for us, into an easy to follow route and itinerary. I can't thank you enough for your time and advice. We are already on our way straight west towards Connemara, looking forward to a spectacular day. 
Lori Jean Murphy New York City.
I am a planner.  My friends look to me to plan itineraries for our trips.  My hubby and I were heading to Ireland and due to a series of personal and work events, it was two weeks before our trip with no real plan other than flights!  I came across Susan's website and purchased her ready made itinerary.  Everything was so right on!  Everything!  Great accommodation recommendations!  Great eatery recommendations!  Great site visit and travel recommendations!  The guide saved our trip and helped us make the most of our short time in Ireland.  What a bonus to meet Susan while we were there!
Sherri & Kevin Morgan, California on the Cliffs of Moher Cruise.
And remember if you have any reservations at all or further queries re your proposed trip to Ireland, please send me an email and I will get back to you as soon as possible, all the best and happy planning, Susan Byron