Irish Seafood Restaurants
Irish seafood restaurants are getting better (and a lot more popular) thanks to the rich waters that surround us and the abundance of fresh fish and shellfish that is landed daily around our 3000 miles of coastline. Healthy and delicious, Irish seafood is best enjoyed with some freshly baked Irish soda bread, a pint of Guinness and a sea view...Strangely enough for an island nation we never really ate or even liked fish up until a few years ago when it became healthy, trendy and expensive ! Apart from fridays, especially Good Friday, when it was common to fast from meat as part of the Catholic religion...
You can pick fresh mussels along the shore in the wintertime, wherever fresh river water flows into the sea. There are ancient scripts dating back to the 6th century commenting on the mussels in Galway Bay as being 'of the finest quality'. Lightly steamed in a little white wine, garlic and cream they make an almost instant treat or you can buy them fresh in most seaside places.
One of those tastes that takes you straight back to childhood is crispy fried mackerel, freshful caught by the bucketful when there is a shoal running anytime in August, they can be bought very cheaply in fact you will probably be given them for free if you stand around and look hopeful....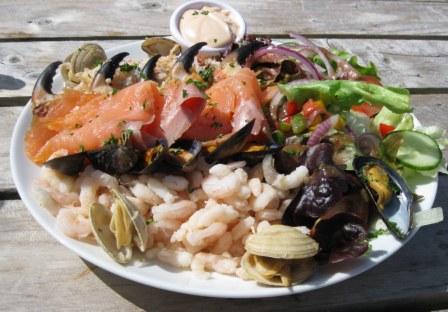 Irish seafood has recently received international acclaim having being credited with one of only two genuine organic salmon farms in the world, just off Clare Island, County Mayo. Most of which is exported apart from those being smoked in the Burren Smokehouse in Lisdoonvarna, County Clare. Available locally from their own shop or online, but also in other seafood restaurants and artisan food shops further afield. Seafood chowder is also very popular as a starter or light lunch. Well made it is a perfect combination of vegetables and seafood in a light creamy stock with a nice wedge or two of brown bread on the side. My current favourite is the chowder at the Jolly Roger Pub on Sherkin Island, County Cork.
And whether you love them or loathe them fresh oysters have been paired with Guinness for an eternity and are now an important item on the Irish event scene when there is an 'r' in the month, which are the only months you are supposed to eat them. Kicking of with the Oyster Festivals in Clarinbridge each September, it becomes a Holy Trinity of Oysters, Guinness and Jazz.....
The Jolly Roger is just one of the Top 10 Irish seafood restaurants recommended in my eBook Where to Eat, Sleep & Play in Ireland - 2014