Walter Raleigh Hotel, Youghal
The Walter Raleigh Hotel is for me at any rate the grown up equivalent of a bucket and spade holiday, full of anticipation and a feeling of summertime. I don't know about you but when spring is in the air, I want to feel the sand between my toes and better still, book a room with a sea view and escape to the coast. Cliché-ed but true East Cork is one of Ireland's Hidden Gems, West Cork, while ruggedly beautiful, is inclined to get very busy and snarled up with traffic in high summer. Better to steal away to Youghal to this fabulous boutique style hotel by the sea, that has recently been renovated and re-opened at a no-nonsense room rate of €100 per room (all year round) which includes a full Irish breakfast. Fresh as a daisy, I particularly liked the posy of garden flowers in my room (and the Barry's teabags), the rooms are very light and spacious with crisp white linen and muted grey tones in the sleek new bathrooms. Chairs are thoughtfully positioned beside the tall sash windows to sit and drink in the ocean views. Really, can there be anything better than waking up to sound of the waves lapping against the shore beneath your window....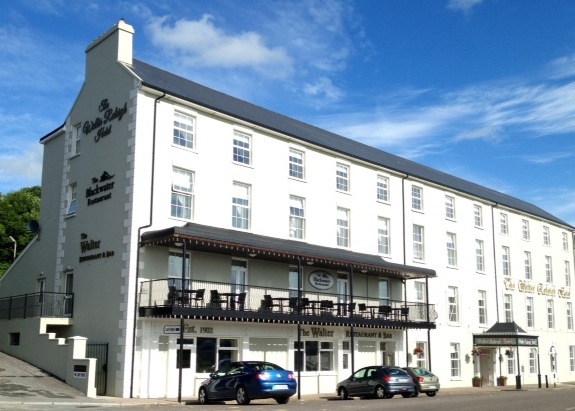 The Walter Raleigh Hotel is right on the seafront over looking the park and Victorian Promenade where locals with their dogs take the sea air of a morning or lounge reading their papers in the charming park with its colourful band stand surrounded by flowers. A quick jog up to the lighthouse designed by George Halpin a descendent of Robert Louis Stephenson who wrote "Treasure Island" hints of childhood summers past in this magical seaside place. Breakfast is served in the River Room which is refreshing bright and airy,with whitewood furniture, a waft of percolated coffee, homemade pastries and spicy fruit compotes. The equally chic Black Water Restaurant is on the second floor which is open for dinner in the evening and lunch on sundays with an outside terrace, perfect for cocktails or sundowners!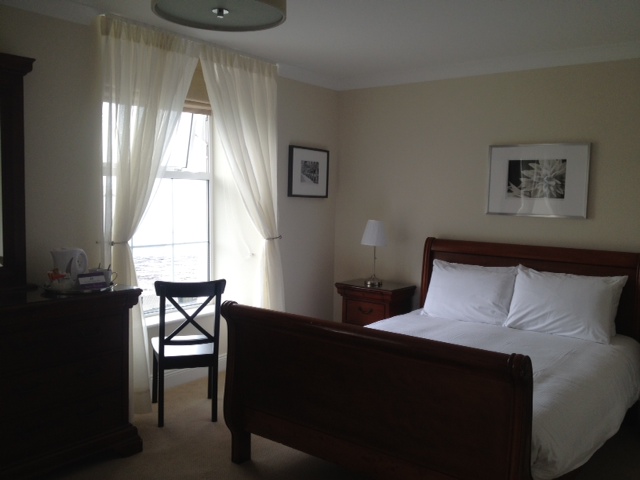 The town centre of Youghal is just a 5 minute stroll through elegant Georgian neighbourhoods that where built when Youghal was connected to Cork by rail and became a spa town for people escaping the city. There is so much to see and do in this lovely old historic town and all within walking distance of the hotel. For the more energetically inclined a 5km beach stretches around the headland as far as Knockadoon. Although in fairness you need never leave the hotel with its cosy bar and mix of local and tourist clientele. Good old fashioned hospitality, in smart new surroundings, the Walter Raleigh Hotel is private owned and managed by local people who obviously know and love Youghal and are more than happy to point you in the right direction and make sure you are have a good time.
The Walter Raleigh Hotel is named after Sir Walter Raleigh who lived in Youghal from 1588 to 1602. He is credited with having changed the course of Irish history by introducing the potato which became the staple diet of Irish people to this day and tobacco which we possibly could have done without ! 
For more information about the Walter Raleigh Hotel or to book online please click here.
For more information on Things To Do and See in Youghal please click here.