Ireland flag flying....
A good tip is that anywhere you see an Ireland flag flying there is a good possibility that it is often state-owned, open to the public and FREE of charge! Apart from Aras an Uachtaran home of our president Michael D Higgins which is only open on saturdays with a limited amount of tickets available on the day. Farmleigh just up the road is open daily (when not being used for state occasions)and is FREE as is the National Gallery on Merrion Square.Irish Museum of Modern Art at Kilmainham and the National Museum of Decorative Arts at Collins Barracks.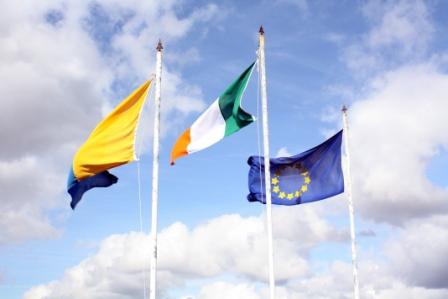 The 10 Best Museums and Galleries in Ireland are.....
1 Hunt Museum, Limerick City 2 Foynes Flying Boat Museum, County Limerick 3 Museum of Style Icons Newbridge Silverware, County Kildare 4 Collins Barracks, Museum of Decorative Arts, Dublin 5 National Gallery of Ireland, Merrion Square, Dublin 6 Irish Museum of Modern Art, Kilmainham.Dublin 7 Huge Lane Gallery, Parnell Square, Dublin 8 Farmleigh House, Pheonix Park, Dublin 9 National Museum of Ireland, Dublin 10 Museum of Country Life Castlebar County Mayo

For more information on free things to do in Ireland please click here.

For more information on the Ireland Flag please click here.