Ireland tours, parks & gardens
Ireland tours to national parks & gardens are very popular and varied throughout Ireland. In Dublin alone, you will find beautifully crafted small gardens like Helen Dillions, manicured formality in the Botanic gardens and leafy city parks like St Stephens Green, a childhood treat of many Dubliners who were brought there to feed the ducks. Another favourite, immortalised in song by the Dubliners was a trip up to the "the zoological gardens" in the Pheonix park, the biggest in Europe which now also boasts a Victorian kitchen garden. Others includes St Annes Rose Garden, Raheny, a fragrant delight in mid-summer not to mention the heady colours of the cliff side rhodeondrons on Howth Head or the majestic formality of Powerscourt and its waterfall in Enniskerry, at the foot of the Dublin mountains......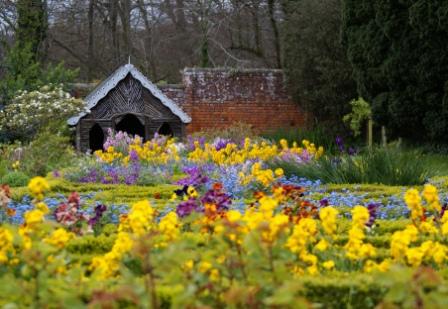 Many large country houses around Ireland had huge amounts of parkland formally laid out and planted with exotic tree lined walks, ornamental lakes, summerhouses, fishing lodges & follys. Some of the houses are gone, but the gardens remain and are open to the public. They are well maintained with guided walks, picnic areas, toilets etc. Lady Gregory, who founded the Abbey Theatre and opened her home and garden to some of Irelands most famous playwrights, poets and artists famously carved their signatures on a tree that is still there to be seen to this day in Coole Park in Galway.
There is a great Victorian garden that has been recently renovated at Kylemore Abbey in County Mayo. Blessed with a mild micro climate, the original owner used to ship pineapples, grown in hotbeds there, to his residence in London during the 1800's. Of course the landed gentry of the time considered the term garden to extend to 1000's of acres of woodland and heather as in Gleanveagh which has to be seen to be believed it is so beautiful......
The Top 10 Ireland tours of parks and gardens are....
1 Coole Park, Gort, County Galway 2 Brigits Garden, Roscahill, County Galway,

3 Kylemore Abbey Gardens, County Mayo 4 Beaulieu House Gardens, Drogheda, County Louth. 5 Tullynally Castle Gardens, Castlepollard, County Westmeath 6 Belvedere House Gardens, Mullingar, County Westmeath 7 Powerscourt, Enniskerry, County Wicklow 8 Glenveagh Castle Estate & Gardens, Donegal. 9 Talbot Gardens, Malahide Castle, Dublin 10 Helen Dillons Garden, Ranelagh,Dublin
For more lovely gardens see also.......
Woodville Walled Garden, Loughrea, County Galway Vandaleur Garden, Kilrush, County Clare For more information on Ireland Tours by bus click here.