President Obama's visit to Ireland.
News of President Obama's forthcoming visit in May has been greeted with great joy and anticipation by the people of Ireland. We have always had a reputation for hospitality and a particular fondness for some American presidents ie JFK and Bill Clinton, but this is going to be a party to end all parties. It's already put a pep in the step of our newly formed government and Enda is right it's a great opportunity for us to showcase Ireland to the world and reclaim our national pride.
Cead Mile Failte means 100,000 welcomes in Irish and that's is what President Obama can expect several times over when he comes to visit in May. Hopefully he will bring Michelle and the girls, as Ireland is a great place for families and sure aren't you all extended family one way or another no matter how fragile the link ? If we can help you trace your roots, we will and make sure you have really good experience of Ireland into the bargain....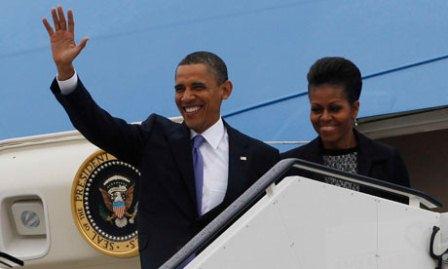 No doubt it will be a whirlwind tour but like I am always advising tourists, less is more! You really dont need to cover the whole of Ireland in a week, honestly I have lived here all my life and have only scratched the surface! You can see and more importantly experience the real Ireland much more if you limit yourself a little bit. With this in mind I have put together the following Top 10 for himself which you can easily follow yourself, without any pressure....
1 Dublin will probably be his first port of call and like most other tourists he will be advised to do the open- topped City Bus Tour? Only in his case there will be 1000's of people lining the streets to welcome him. Enda wasn't kidding when he said that the people of Ireland would give him a rapturous welcome. People are still talking about JFK's visit in 1963 and the Clintons in 2005 so we'll expect him to follow suit and address the nation from College Green.
2 Dublin Castle will be rolling out the red carpet here with a state dinner in his honour. It's fabulous of course with all the pomp and pageantry you would expect for visiting dignitaries even though we don't do royalty ourselves. Michael Collins reclaimed if for us after 800 years of British rule with a rude verse about the statue of justice in the courtyard. Perhaps someone will whisper it in his ear on the night?
3 Monegal there will be dancing at the crossroads here for sure with long lost cousins (54 times removed) crawling out of the woodwork to shake hands with the President. He has one actual cousin so far, Henry Healy and the original homestead has also been traced. So we'll have to let them have their day, but maybe after catching up with his relations and having a few pints he'll head on up the road to Clonmacnoise.
4 Clonmacnoise is an important Irish heritage site, he did say he wanted them, which is picture postcard pretty with round towers and stone high crosses. It was once a strategic Pagan site with became a centre of Christianity during Ireland's golden age as a land of saints and scholars.
5 Bunratty Castle and Folk Park then again, like I tell everybody? If he has only time to do one visitor attraction in Ireland this is it. The real deal not some mocked-up theme park. They even relocated a cottage stone by stone from where it was standing in the middle of what was to become Runway 1 in nearby Shannon airport.
6 Cliffs of Moher worth a peak over of course and pretty damn spectacular this view from the western tip of Europe. From here he could follow the road up the coast to Doolin and out around Black Head with perhaps a stop off in Ballyvaughan for some chowder and mussels or Kinvara for a sail on a Galway Hooker.
7 The Burren this route whether by car or helicopter skirts the vast karst limestone plateau which was once a tropical seabed millions of years ago. In May it will be spectacular with the wild orchids, blue gentians and even Edelweiss blooming everywhere. Its the richest botantical landscape in Ireland with 600 different species per square metre.
8 Galway which was one of the busiest ports in Europe when Christopher Columbus stocked up here on route to the New World at the time (we know this because a Galway man and his dog left with him). Perhaps President Obama might like to do the same on the the 'return leg' so to speak.
9 Kylemore Abbey is an oasis in one of most picturesque landscapes of Ireland, Connemara. Which is where the Quiet Man was filmed and although rural life in Ireland has moved on thankfully since then, the mountains, lakes and even the little stone bridge are still there and every bit as beautiful today.
10 Museum of Country Life which probably wont be on the president's itinerary as its Enda Kennys hometown of Castlebar. But you should take a look at this state of the Art Cultural Centre. Its an excellent resource if you are interested in Irish traditions and customs or the rural farmsteads long or island fishing communities of long ago.
And finally, perhaps a little presidential downtime in Inisfree? Yes there really is such a place on Lough Gill just outside Sligo and really there is no better place to relax and enjoy a slower pace of life in Ireland. Even the President of the United States of America needs a break from the dayjob now and again, to enjoy a round of golf or a little bit of fishing....