Irish culture & tradition
Irish culture and traditions are very much alive and in use everyday in Ireland as can be seen in the photo of my friend Joan's gorgeous thatched cottage on the way out of Ballyvaughan towards Fanore on the West Coast of Ireland. And although she probably wouldnt mind you knocking on the door for a cup of tea a handier (& less intrusive) option if you are interested in finding out more about Irish culture and traditions, might be to visit Bunratty Castle & Folk Park just outside Shannon in County Clare. This is the real deal, not some twee themepark, mocked up as 'little ole Ireland' as it accurately portrays everyday life in rural Ireland as it was not so very long ago! From ordinary folk going about their business to landed gentry with country estates and walled gardens. If you are lucky you might even spot the 'poitin' maker distilling his secret brew down by the lake. I am always telling people if you have only time to visit one attraction in Ireland this is it....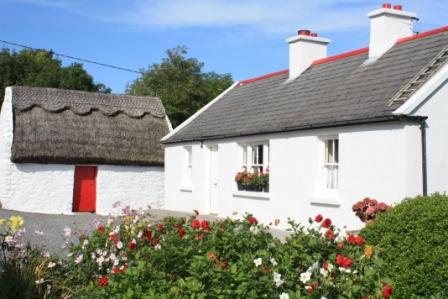 You can step back even further in time at nearby Cragganowen which is another faithful reconstruction of early celtic life with lake dwellings, ringforts, dolmens and standing stones etched with Ogham inscriptions. Iron age tools are used to tend crops, there is even a herd of 'wild boar' and other rare breeds of sheep, goats and wildfowl.
Although for many people Guinness is synonomous with Irish culture and traditon. The Guinness Storehouse in Dublin proudly portrays 250 years of reverence and affection for our national drink, which goes hand in hand with that other great Irish obsession GAA. Short for gaelic football, hurling and camogie. National championships are bitterly fought out at Croke Park and keenly followed at county level. The new Michael Cusack centre in Clare details it's colourful history.
Mind you, you wont get closer to Irish culture and tradition then on Irelands Islands where you Irish is still spoken and you will find hidden gems like the small fishermens shed on Inishbofin, stuffed to the gills with memorabilia about the island telling it like it was for free, complete with a hand drawn map/guide to the island by local children......pure magic.
Or the living link with the past that is the Irish National Stud in Kildare, where many of the world's most famous racehorses have been born and bred and which celebrates the Irish passion and fondness for horses and racing. While the West Clare Railway explores an era that replaced horsedrawn transport at the time and is Ireland's only railway museum with the restored steam engine Sliabh Callan running daily throughout the summer.
The 10 best Irish Culture & Traditional attraction in Ireland are.....
1 Bunratty Castle & Folk Park, County Clare

2 Lockes Distillery, Kilbeggan, County Westmeath 3 Guinness Storehouse, Dublin City 4 Michael Cusack Centre, Carron, County Clare 5 Craggaunowen, Quin, County Clare 6 West Clare Railway, Moyasta Junction, County Clare 7 Museum of Country Life, Roscommon

8 Irish National Stud, Kildare. 9 Foxford Woollen Mills, County Mayo 10 The Blaskets Centre, Dingle, County Kerry.